There's no shortage of companies who manufacture air heating equipment that can get the job done, but industry professionals know the difference between getting the job done and getting it done well. Tioga prides itself in providing industry recognized heating equipment that has a reputation for performance, efficiency, and most of all reliability. Thanks to a few key reasons, many consider Tioga Air Heaters to be the only option when it comes to specialty and large-scale heating applications.
Upgrades that come from experience
In most cases, once an air heater leaves a manufacturer's doors, they'll almost never hear about it again. Tioga, on the other hand, has a unique advantage since its sister company, Mobile Air & Power Rentals, uses Tioga heating equipment in its rental fleet. This means the same facility that manufactures new heaters also services each and every rental heater to meet factory standards. The result is a manufacturer with decades of experience learning which design upgrades result in better reliability, efficiency, and ease of service. While older models of equipment are usually seen as outdated, consistent tweaks and upgrades allow our heater designs to improve throughout the years.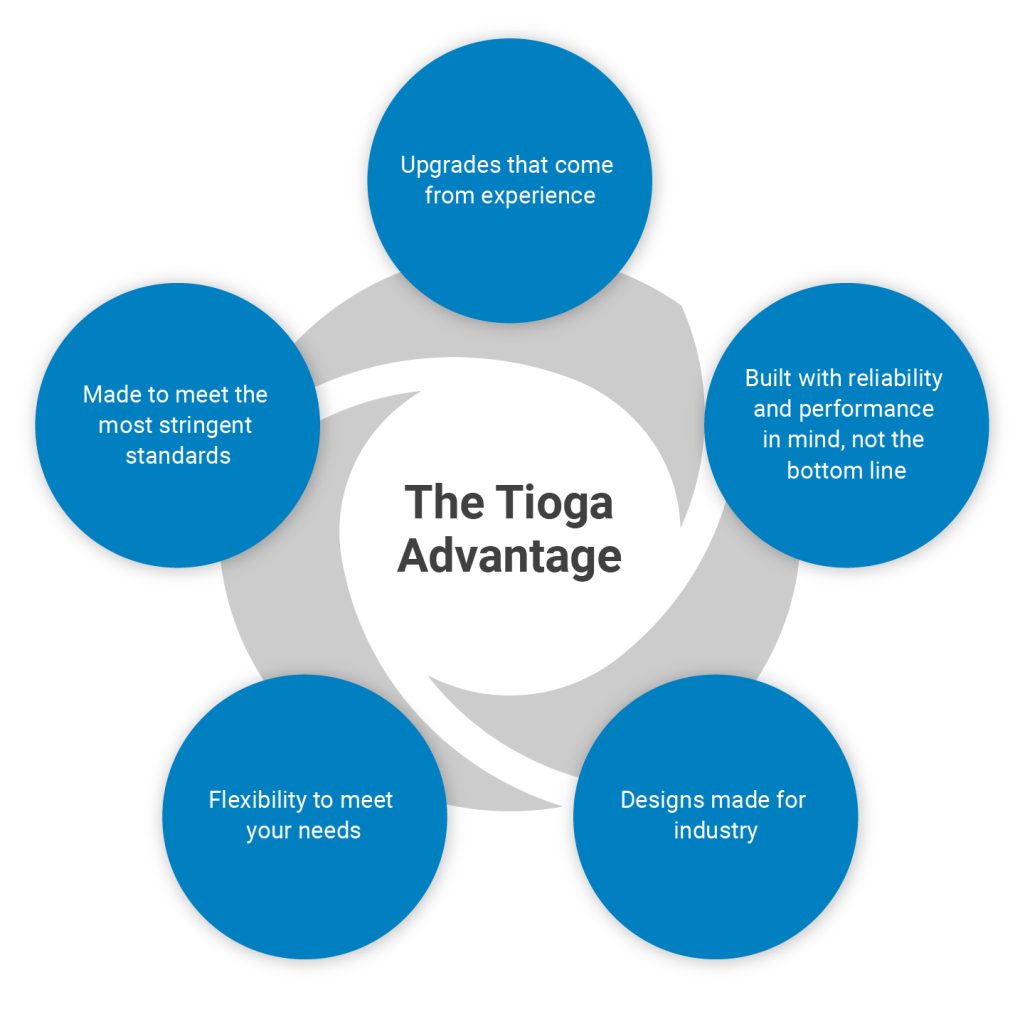 Built with reliability and performance in mind, not the bottom line
Safety and breakdown indicators shut down each unit before components fail and cause major damage. This feature, combined with diagnostic components in our air heaters as well as our own experience servicing the units, means that service can often be done over the phone and completed in minutes, whereas it can take a while for other company's heaters to be serviced. Where others see a corner to cut, we see an opportunity to improve. That's why our heaters reliably operate in temperatures down to –40 °F and can provide a 200 °F heat rise in 0 °F ambient temperatures.
Designs made for industry
Tioga Air Heaters has historically focused on building units that serve industry, especially in harsh and/or desolate environments. That's why our heaters are made to withstand the worst that nature and heavy use can throw their way, and why our units often utilize simplicity, not complexity, to deliver the best performance possible. Design features such as analog controls mean that units can be easily serviced and operational while replacement components are on the way. After all, waiting too long for a replacement PLC in the Arctic Circle can all too easily become fatal if heat is not available in the meantime.
Flexibility to meet your needs
Each unit that Tioga Air Heaters manufactures is made to the exact specifications of the customer. While there are base models for every one of our heaters, there are nearly endless additions and modifications that could be made to meet a customer's specific needs. Whether it's additional components meant to improve a unit's performance under specialized applications or tuning the unit for optimal operation in a specific location, Tioga goes far beyond cookie-cutter heaters.
Made to meet the most stringent standards
Every Tioga heater is designed to meet the ANSI Z83.7 standard for gas-fired construction heaters and is verified by the CSA. Since the CSA emission standards are more rigorous than US standards, our heaters are up to four times as efficient as other American heaters in terms of carbon monoxide emissions.